It's time again for Flea Market Finds!! Whoopee Ding Dong!! Shee Blam!! Whoohoo!!
Can you think of ANYTHING more exciting???!!
"Watching the grass grow you say?" Or perhaps "chatting up a used car salesman?"
Mais noooooo ma cheries! This post will be even better than those! *winks*... OK maybe only slightly lol!... But I'm gonna try real hard!
It's been hard times on the thriftin' trail for me. The fabulous finds have been elusive... But... I did manage a few nifty treats. Well... I'll let you be the judge... so I'll start with my absolute fave (it's kind of a close three way tie this week)
This charming little antique french miss is actually an inkwell. $86.50 at a local antique store. I love the sweet little cobalt well! It even came with a matching blue quill.
Update: My friend Richard from My Old Historic House and antiquer extraordinaire told me this inkwell is old paris porcelain and early 1820-1840! YIPPEE!! I done good!
Isn't she sweet?
Then I stumbled on this reproduction antique barometer at a local antique mall. The owner of the space was there and he told me his father had worked at La Barge in the 70's and he brought this home from there. It was $75 and if you know anything about La Barge? it was a VERY good price *winks*
I found this large antique charcoal portrait of a young 18th century man on craigslist for $20. He's a keeper! Sorry about the bad picture, the glass was very reflective. This shot doesn't do him any justice.
This huge mirrored tray was $20 and has cherubs with little birds on each end. It will be living on my coffee table *winks*
Isn't he a cutie?
Then while I was at the Goodwill I found this wacky crazy cool vintage Japanese lady lamp from the 50's. It's also a music box and plays "Some Enchanted Evening" (The Japanese lady spins) The color of the globe is bright blue until you turn the lamp on and then it changes color! There's also a small pagoda that can be seen in the crystal spire with a small deer sitting beside it. I'll be adding it to my etsy goodies.
Unique and kooky!! Lol!
The top reads "MERRY LAMP" It's in pristine condition.
Can you see the outline of the little deer under the pagoda in the spire?
I found this pretty hand painted rose bowl at the Value Village.
Aren't the soft pink roses luscious?!
This darling planter with barbola rose swags was $5.99 at the Goodwill. It originally had a black rose arrangement in it! Eeeeeewwww! Can you imagine a worse choice?!! What were they thinkin'? Anyhoo out they went... Needless to say I'm ready for Halloween with my black bouquet *winks*
And some more vintage alabaster grapes from the Goodwill for $3.99.
Another addition to my Odd Fellows collection. This antique collar was $5 on ebay.
I love the little metal tassels!
I tried my hand at a little gesso transformation via Rosemary at Villa Barnes on this frame/plateau from the Goodwill for 99 cents. It started out a bright tacky gold with some pressed dried flowers. I'm not sure it's much of an improvement lol! *winks* but I can always slap on some more gesso!
Sorry I didn't get a better shot of the before, it somehow got deleted, but you get the idea.
And finally a set of sheer white lawn curtains with the prettiest tucked detail at the top from the Value Village.
That's it for this week. I hope you'll come back next week for more flea market finds. Please leave me a comment, I'd LOVE to hear from you! And I'll do the same *winks* Vanna
I'm joining Sherry at No Minimalist Here for:
And The Charm Bracelet Diva for: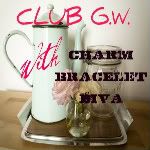 Courtney at French Country Cottage for:
Cindy at My Romantic Home for: